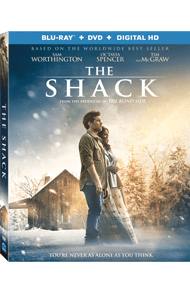 The Shack Blu-Ray [DVD + Digital HD] Combo
You're never as alone as you think
Suggested retail price: $39.99 – On Sale Now for $29.99
Based on THE NEW YORK TIMES best-selling novel, THE SHACK takes us on a father's uplifting spiritual journey. After suffering a family tragedy, Mack Phillips (Sam Worthington) spirals into a deep depression causing him to question his innermost beliefs. Facing a crisis of faith, he receives a mysterious letter urging him to an abandoned shack deep in the Oregon wilderness. Despite his doubts, Mack journeys to the shack and encounters an enigmatic trio of strangers led by a woman named Papa (Octavia Spencer). Through this meeting, Mack finds important truths that will transform his understanding of his tragedy, and change his life forever.
Studio:  Lionsgate
Production Company:  Gil Netter Productions, Windblown Media
Producer(s):   Gil Netter p.g.a., Brad Cummings
Director:  Stuart Hazeldine
The Cast:  Sam Worthington, Octavia Spencer, and Tim McGraw
| | |
| --- | --- |
| Languages: | English, Spanish, Spanish subtitles, English SDH |
| Rating: | PG-13, Dove 12+ Faith-Friendly |
| Number of Discs: | 2 Discs |
| Region: | Region A/1 |
| Audio: | 5.1. Dolby digital |
| Format: | AC-3, Color, Dolby, DTS Surround Sound, NTSC, Subtitled, Widescreen, No CC |
| Running Time: | 132 Minutes |
| Subtitles: | English, Spanish |
| UPC: | 031398259220 |



$24.99

DVD Also Available

The Shack DVD
Highlights:
• The Shack (released March 3, 2017) has grossed $57.3M Domestic Box Office, and $33+ M thus far in Foreign Box Office, for a current total of $90+M worldwide.
• Based on THE NEW YORK TIMES best-selling novel, one of the top 100 best-selling books of all time with over 22 million in print worldwide, released in over 40+ different languages
• All-star cast featuring Sam Worthington (AVATAR, CLASH OF THE TITANS), Academy Award® winner Octavia Spencer (THE HELP), and country music superstar Tim McGraw (THE BLIND SIDE)
• From the producer of LIFE OF PI and THE BLIND SIDE
• The Christian movie event of the year
• DOVE Seal of Approval recipient
• Featuring the hit single "Keep Your Eyes on Me," written and performed by Tim McGraw and Faith Hill
Special Features:  
• Touched by God: A Writer's Journey
• God's Heart for Humanity
• "Heaven Knows": The Power of Song with Hillsong United
• Something Bigger than Ourselves: The Making of THE SHACK
• Premiere Night: A Blessed Evening
• Deleted Scene
• Audio Commentary with Director Stuart Hazeldine
Writer(s):  Screenplay by John Fusco, and Andrew Lanham & Destin Cretton; based on the bestselling book by William Paul Young in collaboration with Wayne Jacobsen and Brad Cummings
Cast:  Sam Worthington, Octavia Spencer, Tim McGraw, Avrahim Aviv Alush, Radha Mitchell, Alice Braga, Sumire Matsubara, Amelie Eve, Megan Charpentier, Gage Munroe, Graham Greene
Dove Review:   "The Shack" is a profound and creative way of revealing the unconditional love of God. Mackenzie, "Mack" (Sam Worthington), has an encounter with the Holy Trinity, at a shack following the death of his beloved daughter. The movie is heartwrenching at times, but it reveals the compassion and mercy of God even during great grief and sorrow. The themes are: forgiveness, compassion, and closure. Mack learns it takes forgiveness, including him forgiving his own abusive father, in order to move on. Mack receives a letter in the mailbox despite there being no tracks in the recently fallen snow. The letter invites him to the shack to meet with the sender, and it is signed "Papa." And Papa turns out to be a pretty important character! God is represented in various ways including as a woman (Octavia Spencer). The dialog and communication in the film is powerful. There is some brief violence, but it is not gratuitous. This film is powerful and gripping and has the potential to change lives. We are delighted to award it our Faith-Friendly Seal for ages 12-plus. "The Shack" will move audiences in a powerful way!(Dove Review from www.dove.org)
(c) 2017 Summit Entertainment, LLC  All Rights Reserved.